A WINNING COMBINATION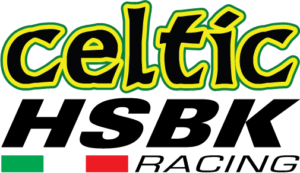 HSBK Racing
Founded in 2011, HSBK Racing showcases its race craft with an unstoppable team. HSBK Racing has surpassed all expectations and shown that working harder, smarter and longer than the competition always pays off. They have paired with the best sponsors, technicians, riders, and industry insiders to create an unstoppable team that consistently runs at the front of the pack. In 2016, they had the most successful season in Aprilia US racing history. HSBK ran the Aprilia in the 2015 and 2016 seasons scoring Aprilia's first US wins in the 1000cc category.  In addition, they were the first MotoAmerica SSTK 1000 team to land on the Superbike Podium twice finishing ahead every Superstock competitor and numerous factory Superbikes as well. The team took the 2017 and 2018 seasons off to move their race shop and establish a training facility in Shawnee, OK. In 2019, the team joined forces with Celtic racing starting a new era.
Celtic Racing
Established in 2001 by Barry Gilsenan and in the course of 12 seasons, established itself as a premier privateer racing team. Development of riding talent began with two-stroke 125cc & 250cc machines competing in professional – amateur and regional championship events. Celtic Racing then transitioned their resources towards AMA Pro Road Racing from Superbike to Supersport. Most recently, Celtic Racing efforts have been focused on Sportbike and Supersport classes with Ducati, Honda, Suzuki and Yamaha four stroke motorcycles. Gilsenan's talent for fielding racers of all ages and abilities has brought Celtic Racing worldwide recognition with many former riders now competing on World Championship levels. With three AMA Pro Supersport championships, Celtic Racing is and continues to be a force within the racing community. They have a reputation for aiding in the growth of the world's top riders as one of the best American youth racing teams.

PJ Jacobsen – Rider
PJ Jacobsen is a world class racer. He had a strong start to his career with an American Flat Track Youth Achievement Award. He achieved over 30 national amateur championships and was selected for the Red Bull MotoGP Academy. After successful Flat Track and Road Racing seasons in America, he began to race abroad in the British Superbike Championship (BSB). While in the BSB he scored race wins in both Supersport and Superstock 1000, along with several top 5 finishes in Superbike. He spent 5 years in the World Superbike Championship in both the Supersport and Superbike classes. In 2019 he returned to MotoAmerica and scored 4 Victories, 7 top 5 finishes and 1 Pole Position. He has proven his skill and dedication by having success on multiple manufactures such as Kawasaki, Honda, MV Agusta and Yamaha.

Sam Lochoff – Rider
In 2016, Sam started his racing career at the age of 14. He karted for about 8 months as well as riding a Honda NSF100. He loved the motorcycle and made the decision to give up karting to focus entirely on motorcycles. In a very short span of time, Sam proved his dominance with displays of his natural talent. By 2018, Sam was competing in World SSP300, FIM European 300 Cup and the Alpe Adria Championship. Despite missing several races Sam finished the season as the FIM European 300 and Alpe Adria Champion. In 2019, Sam raced in four MotoAmerica rounds and his best finish was a third place. Sam looks forward to his first full season in the MotoAmerica paddock in 2020.

Bobby Shek – Team Principal:
Bobby is the owner of an industry leading Italian sportbike parts and accessory website, race shop, and elite training facility. Since 2005 his businesses have catered to high end motorcycle enthusiasts. In 2011, he decided to apply the same principles that made him a leader in Italian sportbikes to grow his racebike building business. In just a few seasons, he managed to make a name for his team that rivals the factory teams. His strong relationships with vendors means that he is well positioned to get sponsorships. His strong website and social media presence means that his sponsors and team get the publicity they deserve. He doesn't cut corners, but manages a top tier team on a lean budget.

Barry Gilsenan – Team Principal:
Barry is the owner of Celtic Racing which began professional racing in 2001. His history in the paddocks of American motorcycle racing extends past his 12 seasons on the grid. He has a talent for scouting and coaching riders of all levels, resulting in an impressive list of Celtic Racing Alumni. Alumni include PJ Jacobsen; World Supersport Champion, Chaz Davies; BSB Champion, Michael Laverty; Multi-time AMA Champion, and many more. These alumni and others are racing around the world in various national and international series'.

Scott Jensen – Crew Chief
Scott is a former racer turned one of the most successful crew chief's in the MotoAmerica paddock. As a privateer racer in the AMA
Superbike Series, Scott was consistently in the top five and would routinely beat factory superbikes taking a career high of 3rd place. Scott was selected as a wild card rider in World Superbike in 2011 and was invited to race the Isle of Mann (UK) and Macau TT (China). He took his experience as a rider / mechanic to the paddock as Crew Chief for The RoadRace Factory in 2012. In that role, he helped the team secure 3 600cc National Titles and 1 Superstock 1000cc National Title. As Crew Chief for our rider, PJ Jacobsen, he helped lead our team to a successful return to full time national racing with 4 Victories which secured 2nd place overall in the championship.

Taylor Shek – Marketing & Hospitality Manager
Taylor uses her marketing and PR background and passion for racing to provide press releases and editorial content for the team and sponsors. In addition, she manages team travel and runs the hospitality area of our pit ensuring that the team and guests are catered to throughout the weekend.
Dave Presler – Technician
Dave joined HSBK Racing in 2019. He has been involved in the paddock since 1993 after a short career in amateur road racing. During his tenure Dave has worked with a multitude of riders and been a part of 11 National Championship teams. His resume includes working with Miguel Duhamel, Neil Hodgson, Tomy Hayden, Dane Westby, JD Beach, and Roland Sands. Although he'll tell you he's not mechanically inclined, his impressive resume will prove otherwise.

Chase McFarland – Lead Technician
Chase has been with HSBK Racing since 2015. He started in the paddock as a rider and has race team experience ranging from chassis mechanic to Claudio Corti's Crew Chief on the Aprilia HSBK Racing team in 2016. He has worked with teams running a variety of manufacturers in the AMA / MotoAmerica paddock as well as wildcard races such as Daytona 200 and Macau.